Cloud-powered connection, collaboration, and control
Office 365 is the same Office you already know and use every day. And then some. Because Office 365 is powered by the cloud, you can get to your applications and files from virtually anywhere—PC, Mac, and tablets—and they're always up to date. Same goes for updates to features—you get them automatically.
---
PC, Mac, tablet, phone. You need to be able to work across devices, from anywhere, and have a consistent, clean, and fast experience doing it. Enter Office 365. Whatever device you're working on, Office 365 gives you access to everything you need—your documents, email, calendars, contacts, and team sites all come with you. Your settings roam with you too, so your files are up to date and ready for you to pick up right where you left off, no matter what device you're using.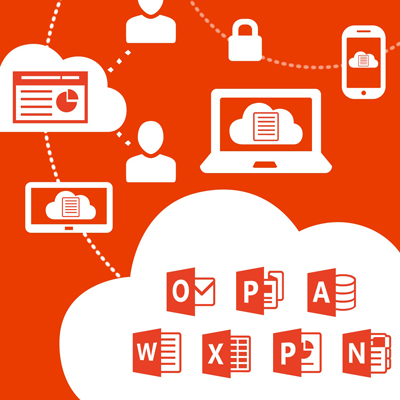 Office 365 means business:
Think of it as your familiar Office, only better
Business-class email and calendaring put you in sync
Online conferencing puts everyone on the same page
Extend your reach with simple, more secure file sharing

Build your online presence, minus the hosting fees

One familiar experience, even on the go

Create docs from any browser

Security, compliance, and privacy you can trust
Make the most of your time
Imagine your business running smoothly – your staff are on the road but they can still send emails, set up meetings, update and share documents, and they can even send and receive instant messages or virtually talk face-to-face. Their work day keeps going with no disruptions.
Microsoft Office 365 lets you and your team use familiar Microsoft Office desktop applications on the move when connected to the internet on a wide range of devices. You'll have the freedom you want to work on the road, from home, with your customers or in the office – using business-grade tools at a predictable monthly cost.
---
Here's how it works
Your team can simply sign in and start using their emails, share calendars, chat to each other using instant messaging, conduct video conferencing sessions, upload and share files as well as create team sites to make collaboration easier; plus they'll always have the latest versions of Microsoft Excel, Word and PowerPoint.
Microsoft takes care of all the hosting, data security, document storage and backing up for you. With a range of packages to suit small and medium business of every size, all you need is your web connection and the Office 365 suite that's right for you.